Hello, all!
I know it's been awhile since I last updated everything, but I can promise you I've been hard at work!
I hope you think the wait is worth it for this new series I'm working on. It's called the Reunion series, and it features a new couple – Joanna and T.J.

Joanna Grantham has spent nearly a decade putting her life back together and is finally comfortable with the way things are. T.J. Magnusson took everything when he left, and she swore she would never let anyone that close to her ever again…especially him.
Fate has a way of dealing with love and hate.
When tragedy forces T.J. back into Joanna's life, she must reconcile things she thought she'd dealt with, the most painful of which is T.J. himself.
Here's a peek at the cover of the first in the series – Love and Hate: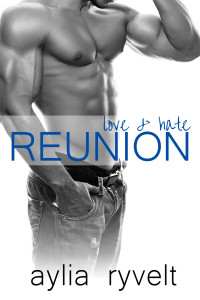 It's currently available for purchase here.
And for a special treat, the first part of Reunion has a bonus story included! It's called High Infidelity and was written for those fans wanting to see what I do with a little reversal of my femdom predilection.
I hope you all enjoy Joanna and T.J. as much as you loved James and Desiree!
Kisses!